An App lock is a tool that allows mobile device users secure their files. These include a photo locker and video locker for content on your Gallery. Banking apps as well as conversations on popular chatting platforms such as Facebook, Skype and WhatsApp need to be protected from prying eyes.
Users can make their profiles private on some social media accounts such as Instagram. But this does not prevent unauthorized physical access to your device. Some phones come with inbuilt security features that enable app locking using biometric features – fingerprints and face identification.
But most phones don't have such features. This makes it necessary to have a way to lock such apps on the phone or tablet. These locking apps typically ask for a pin or pattern every time one opens selected apps.
A new trend is the use of an app lock fingerprint to secure your device. Some people feel a need to secure their incoming calls. These screen locking apps basically ask for a password or pattern before anyone can answer your phone! Such app lockers also give you an option to hide or lock the caller ID.
15+ Best App Lock for Android to Secure Your Device
The following is a list of some of the best app lock for Android on Google Play Store (free and paid) that you can use to guarantee privacy on your phone or tablet.

This lightweight app locker is designed to ensure the privacy of your device and apps. It comes with multiple locking options. These include using a PIN, pattern and your fingerprint. You can use AppLock to lock your apps as well, including Facebook, WhatsApp and Instagram.
This app locker can lock system apps too. These include your photo and video Gallery, SMS, Contacts, Gmail, device Settings and incoming calls. The developer also notes that the app has the functionality of cleaning junk files and cache. This may help boost the speed of your device.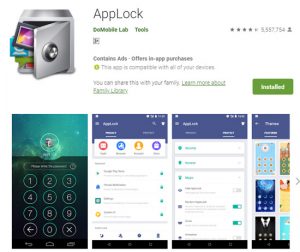 This is one of the most popular/ downloaded app lockers for Android, available on Play Store. It has support for 45 languages and is in use in more than 400 million android devices.
DoMobile AppLock can lock your social apps such as Instagram, Facebook. The app locker also locks system apps such as Gmail, Contacts and incoming calls.
DoMobile AppLock uses random keyboard and an invisible pattern lock to secure your device. One can set a password, pattern or use fingerprint to lock. The app locker hides photos and videos as well. Hidden photos disappear from the Gallery, keeping them away from peeping eyes. The Incognito browser feature ensures that your device won't store your browsing history.

As the name suggests, Safe Gallery (Media Lock) hides your media in the Gallery using a password. You can use this app to secure your audio files, pictures and videos. There is also an option to lock downloaded images. The app locker uses a PIN, password, pattern or fingerprint to secure your content.

AppLock Fingerprint is an app lock that protects your apps using pattern, password or fingerprint. A unique feature offered by AppLock Fingerprint is the ability to identify people why attempt to access your device. To achieve this the app takes a picture of the intruder. The picture is sent to your email.
People whose devices have fingerprint sensor can take advantage of it to have faster access by using the fingerprint feature of AppLock Fingerprint. This locker app can also hide the notifications (notification bar). There is an option to use Smart Lock – unlock whenever you are connected to a specific Wi-Fi/ Bluetooth.

This pattern lock screen app also has the intruder identification feature. Users can hide the app and disguise it as well. The app lock user password and pattern to keep your files safe. The AppLock also functions as a Gallery lock, keeping your pictures, videos and audio files hidden from intruders.
Worried that someone will discover you are hiding some files? Just change the AppLock icon to the Calculator icon! In addition, you can use the app to clean your junk files, thereby helping to increase the performance of your mobile device.
MAX AppLock: App Lock by ONE App Ltd

Max app locker is another popular app lock that secures your files and content using password and pattern. You can lock Camera, Messages as well as apps. The app can take a selfie photo of an intruder. The photo locker feature prevents unauthorized access to both the Camera and the Gallery. You can hide selected photos and videos by placing them into the Photo Vault.
MAX AppLock can hide unwanted notifications from the notification bar while ensuring that you never miss your important messages. The locker app cleans junk files and apk files too.

Are you looking for a good picture lock app? Photo Lock App (gallery lock) is a free photo locker that has been developed specifically to hide photos and videos. It locks your Gallery using a numeric PIN or pattern to give access. It also features a safe browser which enables you to surf the internet and then hide the photos and videos you download.
Devices that come with fingerprint access feature can utilize the fingerprint access option of this photo locker app. The app locks system and social apps too. Intruders will not know you have installed the app if you enable Stealth Mode, replacing the app icon with a secret icon such as Weather or News. Like other popular apps, this photo locker takes intruder selfies.

This app locker is one of the most popular on Play Store, with more than 10m downloads. It is easy to use. AppLock – Fingerprint Password uses pattern, password or fingerprint lock in supported devices. It protects system files such as Gallery, Contacts, Notes, SMS and Settings. The app locker also secures your social media apps such as Instagram and WhatsApp. AppLock hides and reveals pictures and videos. The locker also hides your call logs from prying eyes. In addition, you can make the unlock screen pattern invisible for maximum security.
App lock pro by Best App (Paid)
App lock pro is the paid version of AppLock Fingerprint Password by Best App. There are no ads in this version. It has all the features of the free locker as well as several more capabilities.
This AppLock is very popular, with over 100m downloads and over 3m reviews. CM Locker helps locate a lost phone, lock its screen remotely and then enable its siren. The locking app has the ability to take selfie of anyone who enters the wrong password. Users of CM Locker have free access to HD mobile wallpapers and themes.
CM Locker has all the usual features of an app lock. It uses PIN, pattern and fingerprint lock on devices that support fingerprint identification. Any intruder will have their selfie sent to your email. Moreover, users can use the app to locate stolen devices simply by linking it to their Facebook account. This enables remote access to the phone.

This app lock hides your phone's videos from unauthorized people. The selected videos are stored securely in a secret location. In addition the videos are encrypted using an advanced 128-bit system. This encryption ensures that an intruder cannot view your videos even if they manage to get your SD card (or copy your encrypted videos).
The video locker locks your videos automatically whenever the phone or tablet goes into sleep mode. Paid version users can hide the app itself and use fingerprint to unlock.

Keypad lock screen, as the name suggests, simply prevents intruders from unlocking your phone. It uses a number-based passcode to grant access. The app comes with free wallpapers. In addition, one can use it to see the state of Wi-Fi, network strength and battery level. The simple design of this app means that it consumes less memory. It is a popular screen locker app with over 10m downloads.

IObit AppLock face lock & fingerprint lock 2019 has support for 13 languages and is one of the most popular face lock apps on Google Play Store. The fingerprint lock feature only works in android devices that come with a fingerprint sensor, such as the Samsung Galaxy S10.
This AppLock secures your device's screen. It also has the usual features of app lockers, including securing your social media apps and system aps. Your Gallery will be inaccessible to intruders, as well as device Settings. Using your fingerprint or face to unlock means that there is no need for a password! Note that users can also use a PIN or pattern to secure the phone's screen.

Calculator app lock has a Photo and Video Vault that hides selected photos. It also hides other files in the Gallery. A person needs to enter a secret numeric PIN or use fingerprint unlock to access the contents of the vault. The encrypted content in the vault cannot be accessed even from another device.
The app locker comes with a safe browser from which you can download and instantly encrypt photos. You can set the app to be activated automatically whenever you shake the phone. You will see who tried to intrude through their selfies. In addition, the app offers all the usual calculator functions.
Voice Lock Screen app adds the ability to unlock your device simply by speaking to it. It also comes with the option to use a password or fingerprint for devices that have a fingerprint sensor. The app uses the speech recognition service for android.

Lock for apps (WhatsLock) uses a pattern, password or fingerprint to secure your device from intruders. The app lock hides the content of your Gallery. It also secures the apps and files on your phone or tablet.
This unique app lock doesn't use the usual access methods. Instead, Oops! AppLock uses a volume key pattern obtained by pressing the Up and DOWN volume keys. This means that intruders won't even realize the phone has a screen lock!
Other popular app lockers include:
Good Lock – a premium locker that allows users to create stylish styles using cute wallpapers
AppLock by Loctive Technologies
LockMyPix Secret Photo Vault by fourchars
There are many good app lockers on Play Store to secure your android device. We hope you will find a great app lock, and peace of mind, from this list of app, Gallery, photo and video lockers.
Share On Your Favorite Social Media!
Use the following links to spread the word...