Book Qatar Airways ticket online and pay Qatar Airways ticket with Mpesa to enjoy 5-star journeys around the world. Fly to over 140 destinations worldwide with Qatar Airways while enjoying excellent service.
Qatar Airways gives high quality service and great efficiency in the extremely competitive airline industry. Their global destinations include major business and leisure tourist destinations in Africa, Americas, Asia Pacific, Europe and the Middle East. Their headquarters are in the Capital City of Qatar, Doha.
For more convenience when flying with Qatar Airways, the airline has an online service to enable clients book tickets online and pay Qatar Airways ticket with Mpesa. M-pesa payments are fast, convenient and safe as you no longer need to carry large amounts of cash.
This is the process to book your ticket and receive an e-ticket within 48 hours. We also include details on payment cancellation and refund process, Qatar Airways' working hours and customer care contact numbers and e-mail address.
How To Book Qatar Airways Online and Pay Qatar Airways Ticket with Mpesa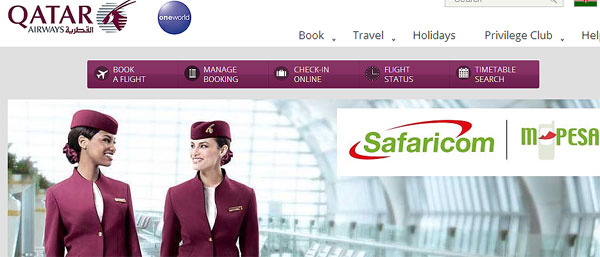 Follow the following procedure to book your Qatar Airways ticket online and pay Qatar Airways ticket with Mpesa. You must pay within 48 hours after completing the booking, otherwise the ticket will be cancelled.
From your phone, got to M-PESA menu and select Lipa Na Mpesa, then Pay Bill.
Enter the business number 816850 for Qatar Airways
Enter your Qatar Airways booking reference number (obtained after completing the booking) as the account number
Enter the amount to pay (in Kshs, up to Ksh 70,000 per transaction and up to Ksh 140,000 per day as per M-pesa limits).
Enter your M-PESA pin and confirm that all the details you have entered are correct. Then press OK/ Send.
You will receive an M-pesa transaction confirmation SMS from Safaricom, and an e-ticket will be sent to you by Qatar Airways via e-mail (the e-mail address used at booking) within 48 hours.
NOTE: Your e-ticket should be sent via e-mail within 48 hours. If after 48 hours you have not received it, please contact Qatar Airways customer service by calling 020 2800000. You should pay Qatar Airways ticket with Mpesa during the following business hours:
Monday – Friday: 0830 – 1700 hours
Saturday: 0900 – 1200 hours
Sundays and all public holidays: Closed
If you make an error when making payment, contact the Qatar Airways Help Desk through the number 020 2800000 or via e-mail at reservationnairobi@ke.qatarairways.com. You can cancel the transaction and request a refund of the money you have sent to pay Qatar Airways ticket with Mpesa by applying for a refund which takes 5-7 working days from the day of the refund request.
Also NOTE That:
There are no additional transaction fees when you pay Qatar Airways ticket with Mpesa, regardless of the transaction value.
Online bookings will be on hold for 48 hours only. Pay within that period or else the booking will be cancelled, and your payment will not be accepted after 48 hours.
Qatar Airways tickets will be issued for valid bookings only and within their operational hours.
Safaricom limits all M-PESA transactions to a maximum of Ksh 70,000 per transaction, and Ksh 140,000 per day. Make two payments to pay any amount over Ksh 70,000 and not over Ksh 140,000.
Pay at your bank or at Qatar Airways sales office if your Qatar Airways ticket exceeds Ksh 140,000.
All fares are quoted in USD, but M-Pesa Kenya allows only transactions in Kshs. To get the latest applicable exchange rate, check the Qatar Airways website or call Qatar Airways customer service team at 020 2800000. You can also receive the current exchange rate and value through e-mail: send an inquiry e-mail to reservationnairobi@ke.qatarairways.com.
No Qatar Airways ticket will be issued if the ticket amount is incorrect. Other terms and conditions may apply when you book Qatar Airways online and pay Qatar Airways ticket with Mpesa. Check the Qatar Airways website before making an online booking.
Share On Your Favorite Social Media!