Get cheap ticket using KQ online check in. Kenya Airways online check in allows travellers to easily make travel plans to Australia, far East, Europe, Middle-East, Asia, North America and within Africa.
Now you can book a Kenya Airways (KQ) ticket online and pay using the revolutionary mobile payment system, M-pesa.
To book online tickets with "The Pride of Africa", you select the destination city, departure city, departure and return dates, the age and class (Economy and Business Premier World).
After paying your KQ ticket with M-pesa, you can use the Kenya Airways App to perform a Kenya Airways online check in directly from your mobile phone.
KQ Online Check In : How to Perform a Kenya Airways Online Check In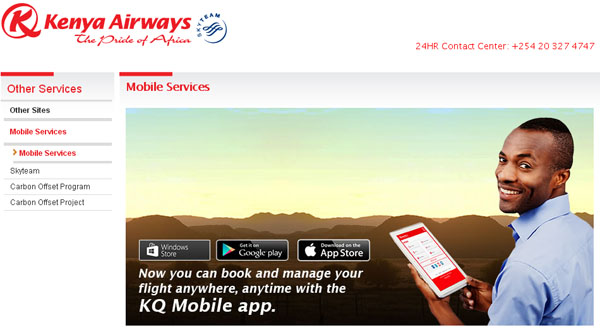 The Kenya Airways App is available for download on Windows Store, Google Play and on the App Store. You can use the app to:
Book a KQ flight.
Buy a Kenya Airways ticket (you can pay for the KQ ticket using M-pesa).
Select the preferred seat on the plane.
Manage your booking, check booking status and update the flight details.
Do a Kenya Airways online check in at any moment 30 to 2 hours before flight departure.
Check the flight status and flight schedule.
Plan your flight better by accessing KQ's baggage allowance policy.
Get the latest KQ news and offers by subscribing to the Kenya Airways newsletter.
Contact KQ management and customer care.
Easier KQ Online Check In using Kenya Airways App

For a quick and convenient Kenya Airways online check in, follow the following links to download and install the Kenya Airways app on your smartphone:
Get the KQ Online check in app from the Windows Store
Get the KQ app on Google Play
Download from the iTunes App Store