There are 54 countries in Africa. The huge continent spans 30.3 million km2. Furthermore, the African nations are grouped into 5 regions. These are Northern, Western, Central, Eastern and Southern Africa.
These regions are further subdivided into 54 countries and territories.
The continent was called Alkebu-lan many centuries ago. This word means "Mother of mankind", "Garden of Eden" and in Arabic, "Land of the Blacks".
Later, the Roman Empire, speaking Latin, called the continent and its inhabitants "Afer" (singular) and "Afri" in plural. This is the origin of the modern name for the continent, Africa, given by Romans and Greeks. Remember that ancient Romans and Greeks were the predecessors to the seven European powers (Britain, Spain, France, Portugal, Germany, Italy and Belgium) that colonized most of the countries in Africa.
You will see in this list of countries in Africa that the largest country is Algeria while the smallest is Gabon (officially called the Gabonese Republic). When it comes to both size and population, Africa is second only to Asia. The continent has the most youthful population. In addition, it has the fastest growing population.
Niger, a country in West Africa, has the highest population growth in the world (in 2020) of 3.8%. The countries in Africa are also the most diverse in any continent. There are over 3,000 tribes who speak over 1,000 languages! Moreover, each region of Africa has its own culture, and sub-cultures according to the tribes.
How Many Countries In Africa: Alphabetical List of African Nations, Regions and Territories
Africa is the second-most populated continent in the world. It is estimated to have over 1.3 billion inhabitants who are spread over the 54 nations. Nigeria, in the West, is the most populous nation in Africa.
The least populated country is the island nation called Seychelles, that is located in the Indian Ocean near East Africa.
The following is the full list of African nations and territories. They are arranged in alphabetical order.
Algeria
Angola
Benin
Botswana
Burkina Faso
Burundi
Cape Verde (Cabo Verde)
Cameroon
Central African Republic
Chad
Comoros
Congo-Brazzaville
Democratic Republic of Congo (Congo-Kinshasa, formerly Zaire)
Cote d'Ivoire
Djibouti
Egypt
Equatorial Guinea
Eritrea
Eswatini (Swaziland)
Ethiopia
Gabon
Gambia
Ghana
Guinea
Guinea-Bissau
Kenya
Lesotho
Liberia
Libya
Madagascar
Malawi
Mali
Mauritania
Mauritius
Morocco
Mozambique
Namibia
Niger
Nigeria
Rwanda
Sao Tome and Principe
Senegal
Seychelles
Sierra Leone
Somalia
South Africa
South Sudan
Sudan
Tanzania
Togo
Tunisia
Uganda
Zambia
Zimbabwe
Fun fact: South Sudan is the youngest country in the world. The East African nation gained independence from Sudan in 2011. Despite being an oil exporter, South Sudan is one of the poorest countries in Africa and the world.
Western Sahara in the North and the British Indian Ocean Territory near Tanzania are two of the territories in the continent. There are two French territories in Africa too. These territories are small islands that are located close to the mainland, hence their association with the continent. St. Helena island lies in the South Atlantic Ocean (West of Africa) while the two French territories are found in the Indian Ocean, near the East African island nation of Madagascar.
Saint Helena (British territory)
Réunion Island (French Territory)
Mayotte (French Territory)
Fun fact: Madagascar is the world's fourth largest Island. The 3 bigger islands are the Danish territory of Greenland, New Guinea in Australia and Borneo, an Asian island.
Quick Answers about Countries in Africa
Which country is Africa's most popular tourist destination?
Egypt is Africa's most popular tourist destination.
Which are some of the top tourist attractions in Africa?
Top sights in Africa include:
1. Kruger National Park
This is one of the biggest and most-popular South African game reserve
2. Mount Kilimanjaro
This is Africa's highest mountain. It is located in Tanzania near the East African country's border with Kenya.
3. Maasai Mara National Reserve
This is the site of the famous Wildebeest migration. The wild animals (wildebeest, zebra, impala, gazelles and eland) migrate from the Mara in Kenya to Serengeti in Tanzania to feed on lush new vegetation. It is located in South Western Kenya, along the country's border with Tanzania.
Other popular attractions here include Maasai villages and Maasai culture (Maa way of life that includes colorful dressing and ornaments), wildlife and game drives, walking safaris and camping.
4. Victoria Falls
These are found along the Zambezi River in the southern region of the continent. This is one of the world's largest falls. They are at the border between Zimbabwe and Zambia.
5. Maclear's Beacon
This is located at the top of the Table Mountain in South Africa, in Cape Town. Sir Thomas Maclear, was an astronomer who placed a stone-cairn trigonometrical beacon at this location. The beacon is used to triangulate measurements that determine Earth's circumference. Other popular activities at the Table Mountain are mountain climbing, hiking and abseiling (rock climbing using climbing ropes and harnesses).
6. Serengeti National Park
This is a famous national park in Tanzania, and one of the destinations in the famous East African Wildebeest migration. The Serengeti is also home to a large ostrich population. Lions, cheetahs, crocodiles, hippopotamuses and vast plains are other top tourist attractions in this national park.
These top African tourist attractions and sights offer the following:
Wildlife Safari
Kid-friendly environment
Outdoors experience
Art & Culture
History
Beaches
Museums
Wineries
Markets
Amusement Parks
Casinos
What is the number one tourist attraction in Africa?
Wildlife are the biggest tourist attraction in Africa. The best places to see these wildlife are Maasai Mara National Reserve (The Mara) and Amboseli National Park in Kenya, Serengeti National Park in Tanzania, Kruger National Park in South Africa, Etosha National Park in Namibia,
What are your top 10 suggested countries to visit in Africa?
Our top 10 suggested countries to visit in Africa are:
Egypt
South Africa
Kenya
Namibia
Tanzania
Morocco
Seychelles
Ethiopia
Uganda
Mauritius
What is the safest African country?
Rwanda is the safest country in Africa. It is also one of the most beautiful, and its capital city, Kigali, is one of the cleanest cities in Africa.
Other safe countries in Africa are:
Botswana
Namibia
Mauritius
Kenya
Seychelles
Morocco
Ghana
Ethiopia
Zambia
Lesotho
What is the poorest country in Africa?
Burundi and South Sudan are the poorest African nations.
What is the richest country in Africa?
Nigeria is the richest country in Africa. Other rich countries in Africa include South Africa, Egypt, Algeria, Morocco and Kenya.
List of Countries in Africa: North African Countries
There are 6 countries in Northern Africa, according to the UN, and one territory. Arabic is the most spoken language in the North. The countries of Northern Africa contribute about a third of the continent's total GDP. Moreover, they are blessed with natural resources. Oil and natural gas are the biggest natural resources in the North.
The following is the list of North African countries and territories.
Tunisia
Egypt
Libya
Algeria
Morocco
Sudan
Western Sahara (Territory)
Fun fact: Despite being the richest region in the continent, deserts occupy most of North Africa. The Sahara, the world's largest hot desert, is located in North Africa. Tunisia is the northernmost country while Egypt is North Africa's biggest economy. Northern Africa is also home to the oldest country in the continent: Egypt!
List of Countries in West Africa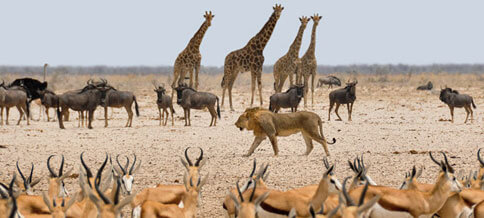 There are over 15 countries in West Africa. The region has produced some of the famous footballers in the world.
Another distinguishing feature of Western Africa nations is that several of them have French as a national language. This includes Benin, Burkina Faso, Côte, d'Ivoire (Ivory Coast), Guinea and Equatorial Guinea. All in all, French is spoken in over half of all African nations: 29 countries.
Nigeria
Ghana
Senegal
Mauritania
Chad
Benin
Guinea
Guinea Bissau
Liberia
Ivory Coast
Mali
Niger
Togo
Burkina Faso
Gambia
Sierra Leone
Cape Verde
Saint Helena (British territory)
Fun fact: West Africa is home to the richest and most populated country in the continent, Nigeria. Nigerians make up almost half of the total population in West Africa. Moreover, the country has over 250 ethnic groups who speak over 500 languages!
Number of Central African Countries
The following is a list of central African countries. Most of the nations in this region have huge deposits of minerals. These include diamonds, uranium, copper, gold and oil. Gabon, Angola and Equatorial Guinea are OPEC members who are also some of the biggest oil producers in the continent.
Central Africa is also the birthplace of one of the popular allergy-free dogs. This is the famous African barkless dog – the non-shedding Basenji. However, some of these Central African nations are sometimes regarded as being in East or Southern region.
Cameroon
Angola
Central African Republic
Chad
Gabon
Equatorial Guinea
Congo
Democratic Republic of Congo
Sao Tome and Principe
Fun fact: Equatorial Guinea is the only Spanish speaking country in Africa. The small middle-African country is a leading exporter of oil and has one of the highest GDP per capita in the continent.
East African Countries List
There are 3 territories and over 15 countries in East Africa. Somalia is the easternmost country in the continent while Kenya is the biggest economy in East Africa. Agriculture is the main economic activity in this region. Tea, coffee, bananas and other fruits, vegetables, sisal, cotton and animal products are in plenty in the Eastern region.
Other major economic activities in Eastern Africa include fishing, financial services (such as M-Pesa) and tourism. The following is the list of East African countries and territories. Some of these countries are sometimes grouped under the Central or Southern region.
Kenya
Uganda
Tanzania
Rwanda
Somalia
South Sudan
Burundi
Ethiopia
Eritrea
Madagascar
Malawi
Zimbabwe
Mozambique
Zambia
Seychelles
Djibouti
Comoros
Seychelles
Mauritius
Réunion Island (Territory)
Mayotte (Territory)
British Indian Ocean Territory
Mayotte and Réunion Island are French territories that are geographically located very close to Africa. The two are among the 5 overseas departments and regions of France. The other 3 regions are Guadeloupe and Martinique in the Caribbean Sea, and French Guiana in South America.
Fun fact: Swahili (Kiswahili) is the most-spoken language in East Africa. There are many Swahili dog names as well. Other popular languages are English in the South, Arabic in the North, and French in West and Central regions. These are only some of the over 1,500 languages spoken in the continent.
List of South African Countries
There are several countries in South Africa. The main economic activities here includes mining, tourism, forestry and livestock farming. Botswana and South Africa are leading exporters of minerals such as gold and diamonds. Other minerals found in the Southern end include platinum, chrome, vanadium and Manganese.
Some countries in the South are sometimes categorized under East and Central Africa. But the following nations are often grouped under the South African region.
Angola
Zambia
Malawi
Namibia
Botswana
Zimbabwe
Mozambique
Lesotho
Eswatini (Swaziland)
South Africa
Fun fact: South Africa is the biggest economy in Southern Africa. It is also the southernmost nation in the continent. There are two small landlocked countries that share borders with the country: Lesotho is completely encircled, while most of Swaziland is encircled, by the country.
Alphabetical List of African Countries and Capitals, Population and GDP
The following is a table of all African nations, their capital cities, population in 2019 and GDP per capita (2019). They are arranged in alphabetical order.
| | | | |
| --- | --- | --- | --- |
| Country | Capital City | Population in Millions (2019) | GDP per capita US$ (2019) |
| Algeria | Algiers | 43 | 3,948.3 |
| Angola | Luanda | 31.8 | 2,973.6 |
| Benin | Porto-Novo | 11.8 | 1,219.4 |
| Botswana | Gaborone | 2.3 | 7,961.3 |
| Burkina Faso | Ouagadougou | 20.3 | 774.8 |
| Burundi | Gitega | 11.5 | 261.2 |
| Cape Verde (Cabo Verde) | Praia | 0.55 | 3,603.8 |
| Cameroon | Yaounde | 25.9 | 1,497.9 |
| Central African Republic | Bangui | 4.7 | 467.9 |
| Chad | N'Djamena | 15.9 | 709.5 |
| Comoros | Moroni | 0.85 | 1,393.5 |
| Congo-Brazzaville | Brazzaville | 5.38 | 2,011.1 |
| Democratic Republic of Congo | Kinshasa | 86.8 | 545.2 |
| Cote d'Ivoire | Yamoussoukro | 25.7 | 2,286.2 |
| Djibouti | Djibouti | 0.97 | 3,408.8 |
| Egypt | Cairo | 100 | 3,020.0 |
| Equatorial Guinea | Malabo | 1.35 | 8,131.9 |
| Eritrea | Asmara | 3.2 (2011) | 642.5 (2011) |
| Eswatini (Swaziland) | Mbabane | 1.15 | 3,837.0 |
| Ethiopia | Addis Ababa | 112 | 857.5 |
| Gabon | Libreville | 2.17 | 7,667.4 |
| Gambia | Banjul | 2.35 | 751.3 |
| Ghana | Accra | 30 | 2,202.1 |
| Guinea | Conakry | 12.8 | 1,064.1 |
| Guinea-Bissau | Bissau | 1.9 | 697.8 |
| Kenya | Nairobi | 52.5 | 1,816.5 |
| Lesotho | Maseru | 2.1 | 1,157.5 |
| Liberia | Monrovia | 4.9 | 621.9 |
| Libya | Tripoli | 6.8 | 7,683.8 |
| Madagascar | Antananarivo | 26.7 | 522.2 |
| Malawi | Lilongwe | 18.6 | 411.6 |
| Mali | Bamako | 19.6 | 890.7 |
| Mauritania | Nouakchott | 4.5 | 1,677.9 |
| Mauritius | Port Louis | 1.3 | 11,203.5 |
| Morocco | Rabat | 36 | 3,204.1 |
| Mozambique | Maputo | 30 | 491.8 |
| Namibia | Windhoek | 2.5 | 4,957.5 |
| Niger | Niamey | 23 | 554.6 |
| Nigeria | Abuja | 201 | 2,229.9 |
| Rwanda | Kigali | 12.6 | 801.7 |
| Sao Tome and Principe | Sao Tome | 0.2 | 1,994.9 |
| Senegal | Dakar | 16 | 1,446.8 |
| Seychelles | Victoria | 0.098 | 17,401.7 |
| Sierra Leone | Freetown | 7.8 | 504.5 |
| Somalia | Mogadishu | 15 | 126.9 (1990) |
| South Africa | Pretoria | 58.5 | 6,001.4 |
| South Sudan | Juba | 11 | 1,119.7 (2015) |
| Sudan | Khartoum | 42.8 | 441.5 |
| Tanzania | Dodoma | 58 | 1,122.1 |
| Togo | Lome | 8 | 675.5 |
| Tunisia | Tunis | 11.7 | 3,317.5 |
| Uganda | Kampala | 44 | 776.8 |
| Zambia | Lusaka | 17.9 | 1,291.3 |
| Zimbabwe | Harare | 14.6 | 1,464.0 |
More Interesting Facts about cities in Africa:
The largest city and former capital of Tanzania is Dar es Salaam.
Abidjan is the de facto capital of cote d'Ivoire. But the administrative/ political capital is Yamoussoukro
The capital of Equatorial Guinea, Malabo, is located on the island of Bioko, away from the mainland.
Bujumbura is the largest city and former capital of Burundi.
Casablanca is the largest city in Morocco. But the capital is Rabat.
Lagos is the former capital of Nigeria
Nairobi city is the capital of Kenya, and one of the 47 counties in Kenya. This is also one of the cutest girl dog names.
Lilongwe is the capital of Malawi. But the economic capital is the city of Blantyre.
Cairo and Lagos are the largest cities in Africa by size and population respectively. In addition, Cairo is a great male name for dogs.
South Africa has 3 capital cities: These cities are Pretoria (executive), Bloemfontein (judicial) and Cape Town (legislative). But the largest city is Johannesburg.
This is the full list of countries in Africa and regions. Contrary to what some foreigners assume, Africa is a continent – not a country. And it is a very big and vibrant continent. Lifestyles also vary greatly in this continent: from modern city life in the capital cities to pastoralism and small-scale agriculture in the villages.
Above all, Africans are proud of their cultures and traditions that are passed-on from one generation to the other. In Africa, it takes a village to raise a child.
Share On Your Favorite Social Media!