Here are the latest betting tips and tricks on how to win Mcheza jackpot games. The Mcheza jackpot consists of 13 pre-determined matches. The games are drawn from 277 leagues that include the German Bundesliga, UEFA Champions League, the very popular English (UK) Premier League, Italian Serie A and Africa Cup of Nations (AFCON).
The current Mcheza jackpot stands at Ksh 17 million. All the 13 games in this Mcheza jackpot will be played on the 26th and 27th of March, 2016. Just as with the SportPesa jackpot, the jackpot will be increased if there are no winners, or a new jackpot will be announced. Ksh 17,644,131 is a lot of money just waiting to be won. You could be the next Kenyan millionaire if you know how to win Mcheza jackpot.
Expect to see several African matches in the next SportPesa and Mcheza jackpots due to the fact that the AFCON 2017 tournament is heating up. The 2017 Africa Cup of Nations in Gabon will be the 31st edition of the top African football contest. Kenya is placed in Group E with Congo, Zambia and Guinea Bissau. Harambee Stars will play Guinea Bissau on Wednesday (today) while the return leg will be on Sunday, 27th march 2016. This is one of the 13 Mcheza jackpot games this week.
Other 2017 Africa Cup of Nations qualification matches in this week Mcheza jackpot include Cameroon vs South Africa, Ghana vs Mozambique and matches involving Cape Verde, Morocco, Zambia and Congo. How to win Mcheza jackpot this week? Just follow the following football jackpot tips.
How to Win Mcheza Jackpot – Mcheza Jackpot Bonus Tips and Tricks
It is hard to win Mcheza jackpot, SportPesa jackpot or any other jackpot. However, the following tips and tricks should make your betting life easier.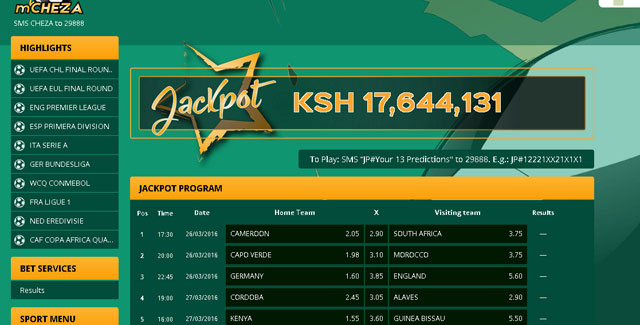 Here are a few proven tips and tricks on how to win Mcheza jackpot.
Know the sport – Football is an old game. You don't have to be a football fan to know a few things about soccer. Watch sports news on TV, follow the latest football facts and gossip on the internet. Check the latest free football predictions on the best football prediction sites.
Relax. Calm down – betting has both emotional highs and lows. This is why football betting is so addictive – you want to win, but you are also afraid of losing. Emotions are your worst enemy when placing football bets. Emotions will prevent you analyzing all of the many factors that determine the outcome of football matches; such as the weather, team morale, injuries and player transfers. Increase your chances of winning Mcheza jackpot by concentrating your efforts on the leagues that you can't even pronounce – you will be forced to research. Research is always a good thing.
Follow these SportPesa jackpot tips – the Mcheza jackpot is similar to SportPesa jackpot. Both have 13 matches. You can deposit money from Mpesa to Mcheza as well as from Mpesa to SportPesa. If many people make 13 correct predictions, the jackpots are split between multiple winners.
You win a big jackpot bonus if you correctly predict 10 or more matches in the 13 SportPesa and Mcheza jackpot games. These are some of the top betting tricks and Mcheza tips to follow if you are wondering how to win Mcheza jackpot.
Share On Your Favorite Social Media!